Always wanted to learn drums? Already play but want to take your playing to the next level? We've got you covered.
We are proud to have a truly amazing team of educators at D² and offer lessons in all kinds of percussion. Our teachers teach all styles of drum kit from heavy rock, to funk, jazz, and everything in between, as well as orchestral percussion, taiko drums and heaps more. Oh, and of course the whole drumline thing….!
Lessons in Prahran are held with D² Director, Campbell Phillips (full bio below). To enquire about lessons with one of our other team members in another part of Melbourne, please just fill out the form below.
For those students who undertake lessons at our studios in Prahran, we are proud to be able to offer world class instruments as well as audio and video recording facilities and a safe, fun environment in which students of all ages can hang out and do what they love.

---
Our Teachers
Find out a little more about each of our teachers
[pl_accordion name="accordion"]
[pl_accordioncontent name="accordion" number="1″ heading="Campbell Phillips – Director D²Drumline, Blue Devils International, Beijing Olympic Orchestra" open="yes"]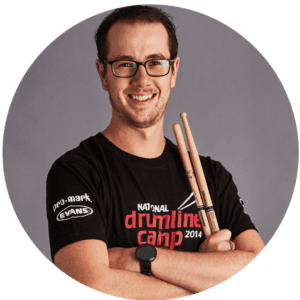 Specialties: Drum Kit – Orchestral Snare Drum and Auxillery Percussion – Marching Snare, Quads, Bass Drum
Available at D² Studio in Prahran, Box Hill
Campbell is a highly in demand performer and educator in both drum kit, orchestral percussion, and marching percussion. As a performer, he has toured the UK, China, New Zealand, the US and Europe. In 2008, Campbell was the lead snare for the Australian contingent of the 2000 piece Beijing Olympic Orchestra and in 2015 he toured the US an Europe with the Blue Devils International Corps including performances with the world famous Top Secret Drum Corps from Basel, Switzerland. Campbell also frequently performs in the classical percussion and theatre percussion world having performed with the Melbourne Symphony Orchestra in their Symphony in a Day Project and dozens of local theatre productions.
As an educator, Campbell has taught drum and percussion for over 10 years and teaches from beginner right through the advanced levels. He is now one of the most in demand Marching Percussion and Drumline specialists in Australia.  He has been commissioned to run masterclasses and workshops at schools across Victoria including: Melbourne University and the Victoria College of the Arts; the Australian National Academy of Percussion; the Australian Percussion Academy; has been an instructor at the National Drumline Camp since its inception in 2012, and has also presented a number of clinics for Revolver Drums.
Campbell is an artist for Pearl Drums, Zildjian Cymbals, Evans Drumheads, and Promark Drumsticks.
[/pl_accordioncontent][pl_accordioncontent name="accordion" number="2″ heading="Byron Goodwin (click to expand)"]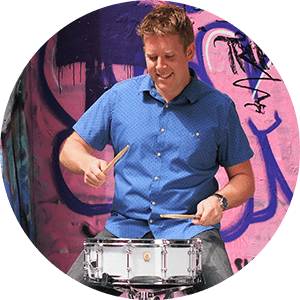 Specialties: Drum Kit
Available in North Melbourne
Byron has been playing drums since the age of 7. He has extensive experience in a variety of musical settings, having had the opportunity to play throughout Australia and internationally.  He has performed in many rock, funk, blues, jazz, big band and world music ensembles.  Byron completed a Bachelor degree in Contemporary Music at Southern Cross University and is a versatile, sought-after freelance drummer.  He has performed overseas in various bands and as part of an orchestra on Royal Caribbean Cruise ships, performing feature production shows and backing guest entertainers including Las Vegas impressionists and comedians.  Byron has also performed in many amateur theatre productions playing drums/percussion.
Byron has been involved with teaching drum kit lessons privately and at schools for for over 10 years and has also conducted a guest lecture at Southern Cross University. Byron currently teaches drums in North Melbourne and caters lessons to students of all ages. His teaching philosophy is to create a fun, vibrant learning environment and to focus on real world skills used in drumming and percussion. Byron is also involved with helping facilitate drum circle events in Melbourne, helping to introduce music making to people from all walks of life. 
Byron is an official artist for Ludwig Australia and Evans Drumheads.
[/pl_accordioncontent][pl_accordioncontent name="accordion" number="3″ heading="Jordan Kiely (click to expand)"]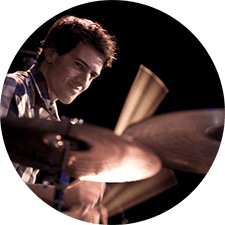 Specialties: Drumkit – Marching Quads, Bass Drum
Available in Toorak (10km radius), Box Hill
Jordan is an experienced musician of 17 years who has had excellent education in music. His advanced technical knowledge in percussion and drum kit has been guided by the completion of a Bachelor of Music Performance at Box Hill Institute where he studied with some of Australia's leading percussionists and drummers including Gerry Pantazis, Tony Floyd, Robi Parolin and Nick Karazavvidis. His work with original projects in a range of styles has seen him play at major music festivals around Australia.
Jordan has extensive experience and knowledge in marching percussion through his work with the D²Drumline, which has seen him study with world leading marching percussionist from America including Scott Johnson, Bill Bachman and Ralph Nader. His involvement in performing has led to large-scale performances including the AFL Grand Final, the Cricket World Cup, the NRL Preliminary Final, the Melbourne Rebels and Melbourne City FC Pre-Game Entertainment at AAMI Park, St.Kilda Festival, Australia's Ultimate Drummer's Weekend and NYE celebrations at Federation Square.
He has a deep understanding of the techniques required to play all genres of contemporary drum kit, and has developed an effective learning sequence for drum kit students which can be seen through the series of drum kit method books he has written for beginning drum kit players. Jordan has an exceptional understanding of effective teaching practices, which has come from completing a Graduate Diploma of Teaching at Deakin University and through his many years of teaching experience. Jordan is on staff at St.Paul's Anglican Grammar, Yarra Valley Grammar and Whitehorse Music as Percussion and Drum Kit Teacher and is available for private drum kit and percussion lessons.
[/pl_accordioncontent][pl_accordioncontent name="accordion" number="4″ heading="Duane Manning (click to expand)"]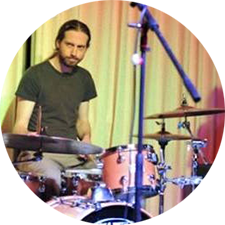 Specialties: Drum Kit, Djembe, Congas, Bongos, Auxiliary Percussion, Marching Percussion.
Available in South Eastern suburbs incl. Frankston and the Mornington Peninsula.
Duane has had a wide range of performance experiences over his years as a musician including tribute shows, corporate cover bands, big band jazz/funk, psychedelic/progressive rock and marching drumline. He has been teaching drums and percussion for over 10 years and is highly experienced in teaching all musical styles from beginner to advanced. Duane can prepare students for various exams including  AMEB, CPM and VCE.
Duane has a Bachelor of Arts in Popular Music and Performance and has learnt from many of Australia's most respected drummers and his performance strengths include jazz, funk, fusion, rock, blues, latin, big band, chart reading, rudimental snare solos, marching drumline.
[/pl_accordioncontent][/pl_accordion]
Enquire Now