We were incredibly lucky to have a wonderful group of student performers from all over Melbourne for the 2019 NBL Finals Series with Melbourne United.
This talented team of students were able to learn an entire pre-game solo routine as well as a number of performance charts in just 2 weeks ready for their first game – and it was a big one with a crowd of over 10,000 on the day!
We thought it might be cool to put together a little post to say a huge thank you to this wonderful team and to help you get to know them a little. Give it a few years and these talented guys and girls may well be the face of the professional D² Performance Line.
"Want to have a go? Check out our NBL Training Corps to get started today!"
---
Angelica Giaquinta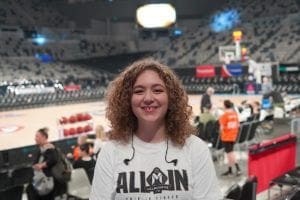 Angelica has been involved in music since around the age of nine. She started with the recorder, then progressed to the guitar, the violin and the piano.
In high school, Angelica started playing percussion and drum kit before experience marching percussion for the first time in 2017 at the National Drumline Camp. She quickly fell in love with it and has since worked hard to improve her drumline technique and actively tried to include drumline into her school's music scene.
This perseverance and drive to improve led to her being able to join her first drumline playing quads/snare for the newly formed school group. She has since participated at many events with various drumlines, but one of her most exhilarating drumline experiences was definitely performing at the NBL finals 2019.  
Angelica hopes to improve her music skills and to gain experience in a wider range of music instruments and styles. She does not plan to stop playing music. Ever.
---
Adam Argyros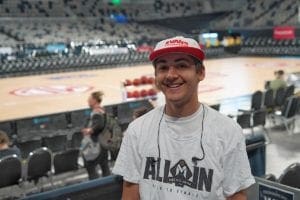 Adam has been drumming since he was 6 years old and  started drumline at school roughly 3 years ago on Snare Drum. Through this involvement in his school drumline Adam was lucky enough to be involved with Time To Shine and also played at the Catholic Principles Gala at the end of 2018.
When it comes down to is, Adam just loves playing the drums and will take any opportunity to play. Other hobbies include music, chemistry, maths and gaming.
The NBL drumline was Adam's first time playing in a professional setting alongside professional musicians and he loved everything about it.
"The level commitment, dedication to excellent and fun approach to the NBL drumline made the whole experience hugely enjoyable and given my chance again, I would take it in a heartbeat."
---
Adam Pai
Adam started off his musical journey on violin learning through the Suzuki method then in Year 4 picked up general percussion for the first time. Adam loved the concept of hitting a drum compared to gently bowing a string; this really opened up the way he viewed music and the various approaches to music performance.
"I have been lucky enough to play with the some of the D2 crew at the NBL playoffs series this year. This has been an awesome experience and if you ever get a chance to do something like this you should jump at the opportunity.
I've really enjoyed drumline at school and to play on a bigger stage with a much larger audience at such a high standard was amazing. Having the crowds of Melbourne United cheering really changes the vibe of the whole experience – I hope I get the chance to perform with this wonderful group of people again sometime soon."
---
Sam Parry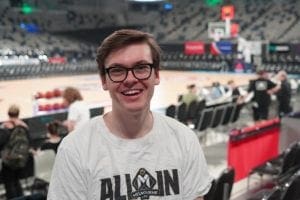 Sam began playing drum kit at the age of 6 after he saw his older cousin playing. Since then Sam has tried to learn as many styles of music and drumming he can and has always looked for music which challenges his playing ability.
A recent graduate from the Australian College of the Arts (Collarts) Sam has been putting his Bachelor of Arts (Music Performance) to good use by teaching drum kit at various schools and studios around Victoria.
Sam's interest in drumline began during his time at university when a lecturer suggested that he attend the 2017 National Drumline Camp. From that weekend onwards Sam has been facinated by drumline and has continued to seek opportunities to play in drumlines. This lead to joining other young drummers to form the Melbourne United drumline, an opportunity Sam recommends to every drummer he knows to try out.