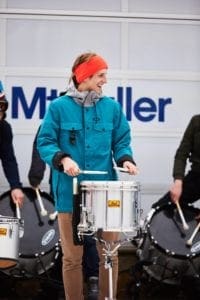 We are very excited to announce that we will be presenting our Summer Intensive again in 2019. The Summer Intensive is a week long course designed to give existing drummers and percussionists the opportunity to experience what it is like to play in a professional ensemble such as D².
This course is a highly focused developmental program which will help attendees take their rudimental chops to the next level and enhance touch, tone, dynamics, speed, and rudimental vocabulary.
In 2019, the Summer Intensive will be facilitated by Harry Potocnik and Campbell Phillips. Harry is the current lead snare of the D²Drumline and a highly accomplished performer both locally and internationally. He recently completed his Honours in Performance at the Melbourne Conservatorium of Music achieving First Class Honours for his Final Recital. Campbell is the Founder of the D²Drumline and has performed extensively overseas and locally including international tours with a number of World Class Ensembles.
It is also incredibly exciting to note that a number of previous attendees of the Summer Intensive are now full time performing members of the professional D² Performance Line. Whether you are looking to audition for D² or just spend a week studying and hanging with some of the most experience marching percussionists in the country, the Summer Intensive is for you!
Instruments available in  the Summer Intensive are: Snare, Tenors, Bass, Cymbals
---
SPECIAL OFFER:

Complete your registration by 5pm December 24th to receive a FREE Private Lesson with Campbell Phillips!
---
Details:
Cost:
$595
($99 per day / $16.50 per hour)
Dates:
Mon 14th – Sun 20th January, 2019
Location: 
D² Rehearsal Studio
Corner Manningtree and Glenferrie Rd,
Hawthorn, 3122
Includes:
Sticks, Music, Tuition + Full Access to Play at a Professional D² Rehearsal
4hrs Group Classes Per Day, 1hr Personal Practice on Drums + Private Lessons throughout the week
Timetable: To view a sample timetable from last year click here.
Registrations Close: Friday 4th Jan, 2019
Please Note: There are limited places available on each instrument type. In order to ensure we maintain the high quality, focused nature of the Summer Intensive, we are not able to provide any additional places once each instrument has been filled. If you are interested in a specific instrument, please get in touch ASAP or complete your registration to ensure you do not miss out on a spot!
---
How To Register:
Please completed the below form to register or enquire (no commitment) about the Summer Intensive.